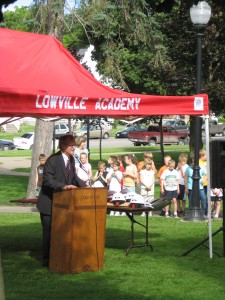 On Monday, June 21st district officials and community members from Lowville Academy and Central School District and Mosaic team members Marty Weber, John Jojo, and Russ Whitlock as well as representatives from Turner Construction took part in the Bicentennial Project Groundbreaking Ceremony.
The program agenda included remarks from Superintendent, Ken McAuliffe, Board President, Robert Meekins, and Mosaic's Sr. Partner, Marty Weber. "When this project is completed, Lowville Academy will be in top-notch shape," said Board of Education President, Robert Meekins.
The $32.8 million capital project's first phase includes athletic upgrades and window restoration work. Monday's celebration, which kicks off the project's second phase includes the installation of a new elevator/stair tower, and entry vestibule in the high school, and a two-story, eight-room classroom addition at the middle school designed to integrate a future third floor. Renovations to the high school science classrooms and art room with a new mezzanine glass enclosed, gallery space also make up part of the second phase.
The project will be complete by fall 2010.