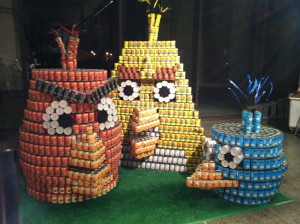 Last evening around 9:30 p.m. at the NYS Museum, Mosaic's "MosaiCAN" team finished stacking the last cans made to look like tassels of hair on their Angry Birds themed canstructure for the Capital Region's first annual CANstruction charity and event.  CANstruction is a non-profit organization which has hosted food drive and design/build competitions around the world since 1992.
The Capital Region event that took place yesterday was comprised of 140 people from nine teams who all fundraised to purchase over 36,000 cans from Price Chopper to build the canstructures which will be on display at the Museum beginning April 13-April 28.  Following the exhibition, each canstructure is de-constructed and cans of food will then be sent to the Food Pantries for the Capital District to help families in our region.
An awards ceremony will be held this evening, April 13 to honor the teams and their structures for best meal, best use of labels, structural ingenuity, jurors favorite and honorable mention.
There will also be a Community Choice award in which any member of the public can vote during the display.  Visitors are encouraged to bring canned goods to the Museum and vote for their favorite structure by placing their donations into food bins located near each canstructure.
The MosaiCAN team would like to thank all those who donated to this wonderful charity!  Your contributions are greatly valued and will serve the families in the Capital District.