Mosaic Associates is proud to announce the promotions of John Jojo, AIA and John Onderdonk, AIA, LEED AP to Associate Partners, and Kersten Lorcher, AIA and Stephen Van Hoose, AIA, NCARB to Associates in the firm.  Partner Nick Waer commented, "All four of these exceptional team members bring unique attributes to our firm and our clients.  Their loyalty to Mosaic, dedication to the service of architecture and sustainability, and their drive to pursue leadership capabilities at the personal and professional level makes each of these four individuals' remarkable mentors and leaders for the firm's future succession."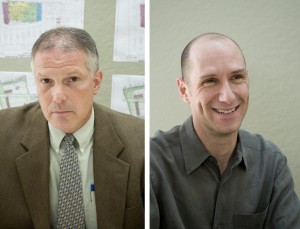 John Jojo, AIA is a graduate of Roger Williams University and the State University of New York at Delhi.  His career has focused on educational architecture for the last 25 years.  A New York State registered architect, John has been the Associate-in-Charge of over $100M in construction for Shenendehowa Central School District since 1996.  A talented designer, John has designed signature facilities in the Capital Region including Shatekon Elementary School at Shenendehowa.  He is currently leading the Sanford Hall renovation project at SUNY Delhi that will architecturally define the vision for the future of the campus.  John lives with his wife Deborah in Melrose and has a daughter, Malana who attends The College of Saint Rose.
John Onderdonk, AIA, LEED AP has a Master's degree from Virginia Polytechnic Institute and is also a graduate of Skidmore College.  A registered architect since 1998 and a LEED Accredited Professional, John leads the firm's sustainable design movement and serves as an advisor office-wide.  For the last 15 years John has specialized in educational facilities at both the K-12 and Higher Education levels.  He is currently the Project Manager for the new Science Center at Hudson Valley Community College. A resident of Saratoga Springs, John served as a member of the Board of Directors for the Saratoga Springs Preservation Foundation.  John resides with his wife Marne and is an avid endurance sports competitor.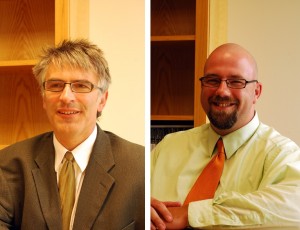 Kersten Lorcher, AIA is a graduate of Rensselaer Polytechnic Institute and also studied at Eitgenössische Technische Hochshule in Zurich Switzerland.  A New York State registered architect since 1992, Kersten's 24-year career has included a variety of project types for K-12 facilities and Colleges and Universities throughout the State.  Currently, he is serving as the Project Manager for the Doyle Middle School renovation project at Troy Public Schools.  Kersten's qualities in project management are a fine example to which younger architects should aspire.  He has exemplary team building skills and a keen sense of detail.  Kersten lives in Troy with his wife Sylvie and has two children, Conrad and Isabella.
Stephen Van Hoose, AIA, NCARB is a 1999 graduate of Rensselaer Polytechnic Institute.  In 2004 he became registered as a New York State architect and also received his NCARB (National Council of Architectural Registration Boards) certification.  For the last eight years, Stephen has led the firm's architectural design work totaling over $80M at the Greater Amsterdam City School District.  Steve's strength as an architect and project manager is his capacity to recognize the technical challenges of a building project and translate them into a solution that reflects practicality, innovation and aesthetics.  Together, with his wife Nicole and two sons Owen and Eric, they live in Nelliston.
Congratulations to each on these well-deserved promotions!