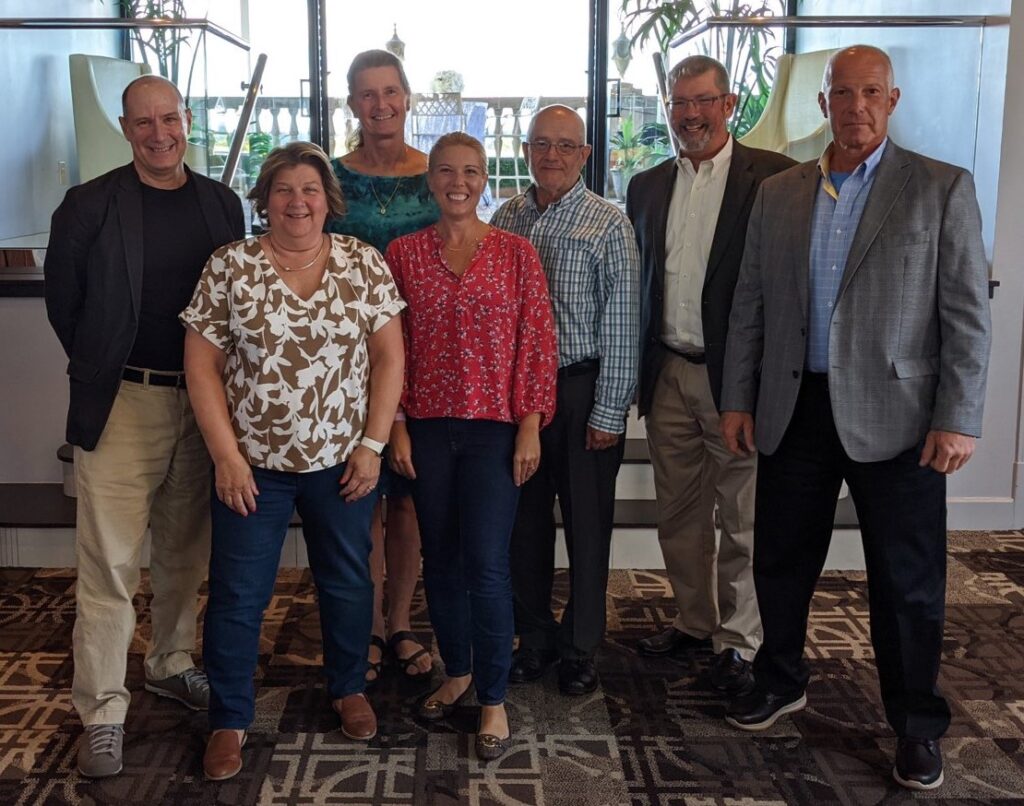 Mike Fanning, one of the most talented architects and team leaders Mosaic Associates has had the pleasure to call our own, retired recently. Mike reached out personally to many of you, and others have likely heard through the Mosaic grapevine, so this announcement is a formality and marks our celebration of Mike and all his accomplishments at a party held on September 10. Mike's retirement was planned well in advance but the COVID pandemic and related precautions prevented us from celebrating with our entire team before now.
Mike has always had a passion for sustainable design, daylighting, and creating places that inspire people to learn and grow. His interests were in perfect sync with Mosaic's dedication to creating learning environments that exceed practical and environmental goals, inspire great thinking, and improve lives.
Early in his career, Mike worked for architectural firms both locally and in New York City, joining Dodge Chamberlin Luzine Weber Associates – a firm that eventually became Mosaic Associates – in 1995. He became an associate in 2000 and a partner in 2005. As the partner in charge of finance, Mike was instrumental in steering the firm through the 2008 recession.
Mike served as managing partner of Mosaic from 2014 to 2020. Under his leadership, Mosaic's yearly billings almost doubled, the firm was recognized as an Albany Business Review Best Place to Work three times, and received the Van Rensselaer Small Business Award from the Rensselaer County Regional Chamber of Commerce.
Mike's focus has been on designing educational and community facilities since he joined Mosaic. Significant projects he has led include:
Burnt Hills-Ballston Lake Central School District – $34M in 21st century upgrades to the learning environments in the district's five school buildings, including a dedicated addition for STEAM (science, technology, engineering, arts, and math) spaces at the high school. The STEAM addition provides large, open, and collaborative project-based labs for interdisciplinary learning in materials processing; CNC/metals; robotics; and 2D, 3D, and digital art.
Troy City Schools – $54M complete renovation of the middle school including classrooms, circulation patterns, new entry and atrium, cafeteria, classrooms, and athletic improvements. This renovation led to measurable improvement of middle school student outcomes.
Schenectady City School District – Programming, planning, and implementation of a $134M Long-Range Capital Facilities Plan in multiple phases for the entire district to address overcrowding, forecasted enrollment shifts, equity issues, inconsistent feeder patterns, and deteriorating conditions in the district's oldest buildings.
Mike holds a master's degree in building design from Columbia University and bachelor's degree in architecture from Rensselaer Polytechnic Institute. He is a member of the American Institute of Architects, the Society for College & University Planning, the Association of College & University Housing Officers International, the Adirondack Club, and the Sierra Club.
We are certain that Mike will spend his retirement years enjoying his favorite pastimes including kayaking, hiking, cross-country skiing, and fly fishing with his wife, Priscilla.