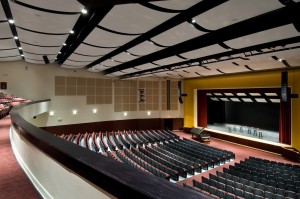 Mosaic Associates announces that the Glens Falls High School Auditorium has been selected for publication in the American School and University (AS&U) Magazine's 2010 Educational Interiors Showcase.  It is featured in the August 2010 edition of the magazine, and also at www.SchoolDesigns.com.  As an annual competition honoring educational interior design excellence, the Educational Interiors Showcase spotlights projects representing some of the most effective learning environments in America.
In 2008, the Glens Falls School District carried out a major renovation of its cherished auditorium.  The renovated space had to meet the District's intent – schools meetings, plays, musical/dance performances, and flexible areas for student study – and also serve as a professional venue for the area's community groups.
One of these organizations is the Glens Falls Symphony Orchestra (GFSO), a vital presence in the community.  Their role on the steering committee, along with District representatives, the Lake George Opera Company, and other arts groups, ensured that the space would reveal an acoustical quality that was professional and innovative, and transcend the audience's visual experience.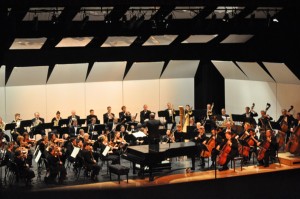 Robert Rosoff, Executive Director of the GFSO said "The renovated Glens Falls High School Auditorium is exceptional.  The need for a professional acoustical evaluation was paramount and resulted in a vast improvement in the sound of the hall including its suitability for commercial recording.  The reconfiguration of the seating as well as the new color scheme has greatly enhanced the audience's visual experience.  Congratulations on a job well done!"
Superintendent, Thomas McGowan commented, "The Glens Falls Auditorium renovations are outstanding. There was a need to renovate the auditorium to accommodate the many groups who used the space.  The school district and community are proud of the newly renovated auditorium and it will enhance the opportunities available to our students for years to come."

A jury of American Institute of Architects (AIA) members and educational administrators evaluated submissions from architectural firms, schools and universities across the country.  Ninety-five projects were chosen for publication in AS&U, a magazine devoted exclusively to education facilities/business administration.  Each project was judged based on the following considerations: high performance/value, safety/security, innovation, atmosphere, functionality/quality and contextual relationship.  This is the 20th year the competition has been held.