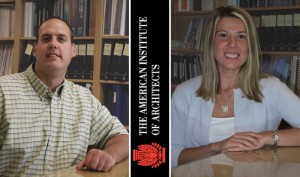 Mosaic is excited to announce that Matt Gaspary and Callie Gaspary are the latest in the firm to pass their Architect Registration Examinations (AREs), and are now registered architects in New York State!
As husband and wife, Matt and Callie prepared for their exams simultaneously, during which time they also enjoyed the newfound responsibilities of parenting their baby boy Ty, and new home-ownership in Niskayuna. As part of their preparation, Matt and Callie also completed the Intern Development Program (IDP), as required for the experience component of their licensure. Each shares the same alma mater as well, graduating from the RPI School of Architecture.
With the addition of Matt and Callie, Mosaic now employs 16 Registered Architects, each of whom is a member of the American Institute of Architects. Congratulations to Matt and Callie both on this fantastic achievement and all the hard work that went into it!