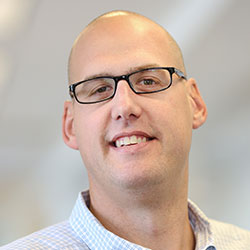 Its our pleasure to share that Matt Gaspary, AIA has been promoted to Associate Principal. A member of the firm for 19 years, Matt has managed projects for the Saratoga Springs City School District, the Cairo-Durham Central School District, and the Glens Fall City School District. He was also a key member of the team that designed the Center for Advanced Manufacturing Skills at Hudson Valley Community College.
A graduate of Rensselaer Polytechnic Institute with bachelor's degrees in architecture and building sciences, Matt is a member of the American Institute of Architects and the National Council of Architectural Registration Boards. He is also a graduate of the Rensselaer County Regional Chamber of Commerce's Leadership Institute.
An active community volunteer, Matt volunteers with the Weekend Backpack Program of the City Mission of Schenectady and participates on Mosaic's team for CANstruction. He also gives his time to various youth sports organizations as a volunteer. Congratulations Matt!