Mosaic was recently selected to design a new, 100,000 s.f., $35 million science facility for Hudson Valley Community College.  Designed to achieve a LEED Silver Certification, the new Science Center will integrate science departments and programs that are currently scattered throughout campus.  The new flagship facility will stand prominently at the edge of campus, creating a distinct identity for HVCC and embracing the campus' commitment to their students, faculty and staff.
"Hudson Valley Community College must be poised to offer a 21st-century education that meets the needs of the 21st-century workforce," said Hudson Valley Community College President Drew Matonak.  "To do this, the college's academic buildings must have the academic atmosphere and technology that empowers students to learn and to thrive in 21st-century laboratory settings."
Mosaic's teaming arrangement, a significant attribute in the selection process, resulted in a unique and vital combination of design and engineering experts.  Working together with Payette and Vanderweil out of Boston, and Ryan Biggs, the LA Group and Ambient Environmental from the Capital Region, our team will deliver a state-of-the-art science facility that will personify HVCC as one of the most outstanding and competitive community colleges in our nation.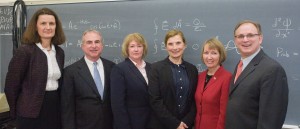 "We are thrilled to bring a team of international experts to work with Hudson Valley Community College in bringing to life the vision of an advanced, modern facility that will inspire students and faculty alike," said Hana Panek, AIA, LEED AP, partner, Mosaic Associates.  "Realizing the significant role community colleges will have on the future of teaching, research and workforce training, the new science center will evoke a vital presence on campus and serve as a vital resource in our community."
In addition to the science center, renovations to several academic buildings will also take place and will cost approximately $19 million.  Mosaic's first priority will be to solicit input from faculty and staff to assess the needs for the new science facility and at the same time, collect information for the renovation projects.