(East Greenbush, NY – October 26, 2011) Partners and staff from Mosaic Associates joined stakeholders from Hudson Valley Community College and the region yesterday in a ceremonial groundbreaking celebration of the construction of its new technologically-advanced science center.
Construction of the $35 million, 100,000-square-foot center began this summer and is expected to be completed in the fall of 2013. Plans also were outlined for renovations and upgrades to Amstuz Hall and Fitzgibbons Health Technologies Center, other science-related areas, for which another $19 million in funding was secured by the college in conjunction with this new project.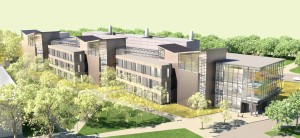 Twenty-five fully equipped state-of-the-art laboratories in the new science center will provide for the study of biology, chemistry, physics, biotechnology, earth science and forensics. The center also will house eleven classrooms, faculty and staff offices, conference spaces, a science study center and a greenhouse. The building will offer students the opportunity to explore emerging technologies and master the use of cutting-edge equipment in preparation for continuing their education at leading colleges and universities throughout the country or entering the workforce in various scientific capacities.
"Hudson Valley has always embraced progress, and continues to move forward in specialized scientific arenas with this new Science Center. Recognizing that innovation in science is key to the 21st century, we will be offering students the tools they need for a critical science education," said Hudson Valley Community College President Andrew J. Matonak.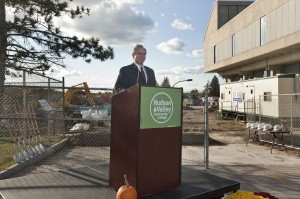 As the Capital Region continues to grow as a biotechnology/bio-manufacturing hub, there will be increasing demands for qualified scientists and technicians. Hudson Valley's science programs, including Biotechnology, Biological Science, Physical Science and Environmental Science, are an integral link between the companies seeking skilled employees and those seeking training and employment.
In an era that demands attention to environmental responsibility, the center is planned to achieve LEED Silver-certification from the United States Green Building Council (USGBC). The center will feature stringent air quality control, day lighting, energy and water conservation systems and reduced carbon emissions in its operation.
Mosaic Associates of East Greenbush, a firm that has designed educational facilities since 1865 collaborated with Payette, a leading architectural design firm specializing in complex buildings for academic teaching, medical and scientific research, and healthcare.  Other consultants include RG Vanderweil and Capital Region-based Ryan-Biggs and The LA Group.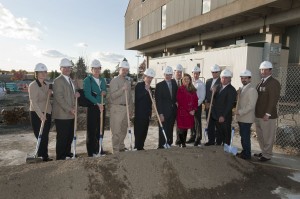 "Our strategic partnership with Payette, coupled with the expertise and synergy of our entire team created a strong foundation for the project's success during design. As we transition into construction, we look forward to seeing this flagship facility come to fruition, marking a major achievement in Mosaic's history, for Hudson Valley Community College and the region," said Hana Panek, partner, Mosaic Associates.
"Hudson Valley has distinguished itself as a true model for the region's initiatives in science and technology. We are proud to support this mission of educational advancement and economic development through our own work in this community."