(East Greenbush, NY – January 11, 2011) Mosaic Associates is working with the Mechanicville District Public Library to design proposed renovations and a 3,000 s.f. expansion to their facility on Main Street.  Due to a steady increase in visitors during 2008, 2009 and a 30% increase in visitors during 2010, a community taskforce made up of residents suggested that the library expand to meet the community's growing needs.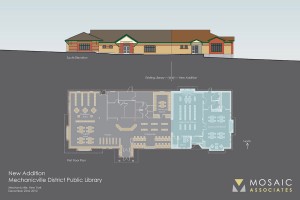 The project will create defined areas for adults, young adults and children.  The current adult and children sections of the library will be separated and the computer area will be expanded doubling the amount of available computers.  A community room with a separate entrance will be designed for the various community organizations that meet on a weekly basis.
The library has more than $200,000 in available funding for the project and will bond approximately $1.4 million.  A public vote is scheduled for February 15, 2011 at the Mechanicville High School.  Assuming a positive outcome, the project team consisting of Nick Waer, John Onderdonk and Claudia St. John will collaborate with library representatives and the community to proceed to the design development phase and prepare construction documents for bidding.  Project completion is anticipated for December 2012.