Architect, Learning Environment Planner & Principal Callie Gaspary was profiled in a recent issue of the Albany Business Review that marked International Women's Day by featuring notable women leading businesses in our community. She discussed her career path and how she became interested in learning environment planning.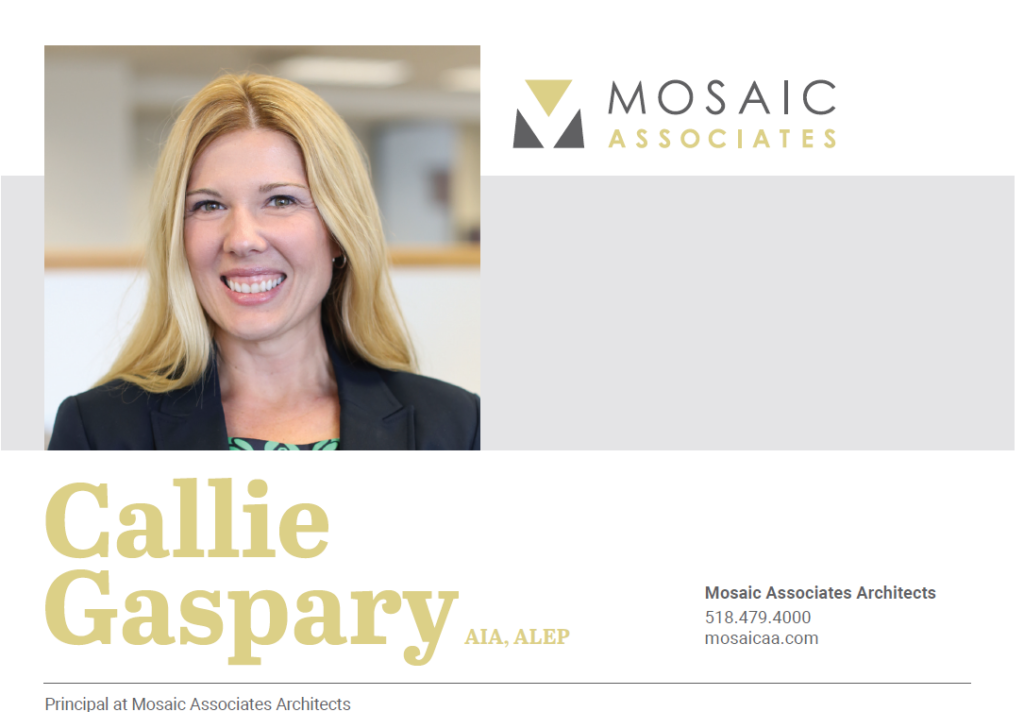 What drew you to architecture?
I decided I wanted to be an architect when I was in 3rd grade. I loved building with Legos and designing my house. As I learned more about architecture, I became interested in how your environment impacts the way you feel. That's especially cool when you design schools because we can have an impact on how kids feel in the buildings where they spend most of their time.
Tell us a little about your career path. How did you get to where you are today?
I knew I wanted to be an architect, and I was always interested in going to RPI. So I went to RPI for architecture. When I graduated, I came to Mosaic; my husband Matt was already working here.
My parents owned a business and I always knew I wanted to own a business. I put down "own my own firm" as my long-term goal in my review and my boss said "how about being an owner of this firm?" I was always asking to do more and take on more. Now, as my kids say, "Mommy is the boss."
What event or decision impacted your career the most and why?
I went to an Association for Learning Environments (A4LE) Conference in Baltimore. Everyone there was so passionate about improving education for kids. That was a turning point for me because I saw that we can make this huge difference for kids. It opened my eyes to the fact that we need to learn more about the impact the spaces we design can have on learning outcomes and that we have to advocate for it. I started going to all their events and I got involved in the leadership of the organization.
What led you to pursue the additional certification of Accredited Learning Environment Planner (ALEP)?
I became interested in doing A4LE's accreditation program when I saw that the courses were like nothing I had learned before. They were about theory and learning styles and the educational adequacy of buildings.
I did the accreditation courses for myself but also to bring everything I learned back to our team. The information about learning styles was so interesting to me as a parent and an architect. I learned how what I do as an architect can help to facilitate all these different learning styles. And I found out a lot about my kids, Matt, and myself.
What should women look for when seeking employment in a company that is supportive of women in the workplace?
I think it's important to make sure there are opportunities to learn and grow. I would look for women in leadership positions and a strong focus on work/life balance. In my journey, finding a place that was family friendly was very important, because I wanted to have a family.
Callie Gaspary, AIA, ALEP is a principal at Mosaic Associates Architects. An expert in educational facility design, Callie's has 20 years of experience creating learning environments for public school districts in New York State. An accredited learning environment planner, Callie is an active member of the Association for Learning Environments. Currently she sits on the A4LE Commission nationally. Callie is a past president of the A4LE New York Chapter and the A4LE Northeast Region.