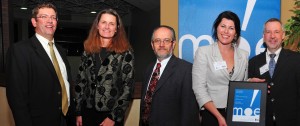 On October 6, 2010 Mosaic Associates was announced as one of four winners to receive the New York Capital Region Chapter of the American Marketing Association's (NYCRAMA) Mark of Excellence Award.  The 16th annual awards recognized results-driven marketing campaigns in the Capital Region.  The winners were chosen by a distinct panel of nationally recognized marketers from across the country.
In 2008, Mosaic worked with Shannon-Rose Design to execute a new name change and re-branding effort.  The campaign encompassed the creation of a new website, identity package including logo and tag line, marketing materials and the execution of a three-month public relations campaign.
"Our name change and re-branding effort was a year-long process that was poignantly demanding at times, yet truly a triumph of teamwork among our staff.  We launched our new identity in September 2008 and this award validates our firm's efforts in making this transition happen and it also reenergizes the enthusiasm and success we felt then.  It's a real sense of accomplishment to be recognized in the Capital Region." said Kelly Klopfer, Marketing Manager for Mosaic.